South Kurdistan
(Iraqi Occupied Kurdistan)
South Kurdistan is the part of Kurdish land locates north of Iraq, or it is the Iraqi occupied Kurdistan. After collapsing the Ottoman empire in the World War One Britain and France in the Sever treaty of 1920 had considered to create a Kurdish State. But in the Lusana treaty of 1924, both countries changed their plans and annexed the southern Kurdistan to the newly created state of Iraq which was colonized under British mandate. Ever since Southern Kurdistan has been occupied and ruled by consecutive regime's of Iraq.
Southern Kurdistan's population currently is more than five million. Its big cities are Sulaymaniy, Hawler, and Dahok.
Sulaymaniy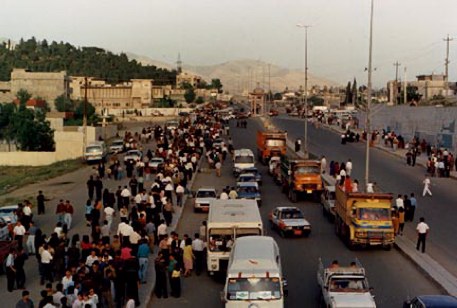 Assurance of protection by UN and Western Allies, especially the United States of American and Britain, for the first time in their life, Kurdish people freely are taking an evening walk without fears of existing their enemy, Iraqi authorities, in their city, in their life.
During Iraqi regime's control in Kurdistan, especially after the Baath party took over Iraq in July 17 1968, Kurds constantly were living in the state of fear, horror, and worries. The regime had several forms of forces wherever Kurds lived. There were Military Police patrolling every town's street intersections, Baath's Securities spying on people and monitoring everyone's daily activities, Regular Police , Soldiers, National Guards, and Plain Clothes Securities.
Saddam's regime had transformed almost every agricultural field or farm into military bases for massing soldiers wherever Kurds lived. In addition to those oppressive policies, the regime had built military control towers on the top of every high mountain and hill where looked over Kurdish dwellings and roadways.
Kurds were always afraid for their lives. They were unsure how the next day would start or what would happen to them. Any person could have been arrested without any apparent reasons or been jailed with false accusations. There were too many prisons all over Iraq, particularly in Kurdistan. Prisoners did not have any right to hire a lawyer or make an appeal. Saddam's regime had executed thousands of Kurds without any trials just because they were Kurds and were falsely accused of their sympathy or activity with Kurdish national movements.
Even though Kurdistan and Kurds are now protected by UN safe-haven and no-fly zone, Kurds are still uncertain and worry. Examples of these are many attempts by Saddam's hired gangs to disturb stabilities and plant fears in people's mind. Several times bombs exploded in public areas in Kurdish cities, many UN foreign employees have been assassinated. The most terrible one was when Saddam's army went back to Kurdistan in August 30, 1996 destroyed the established Kurdistan Parliament in Hawler ( Arbil), and killed hundreds of mainly Iraqi opposition members.
This barbaric attack against Kurds carried out inside UN safe-haven and no-fly zone and neither warnings ahead of the attack nor any punishable retaliations were attempted by western allies against Iraqi army or regime. To me and to my analysis, such an aggressive attack was a preplanned plot. Even though the KDP involved in this operation to regain control in Arbil , but other factors had a major role in accomplishing such terrible attack?!.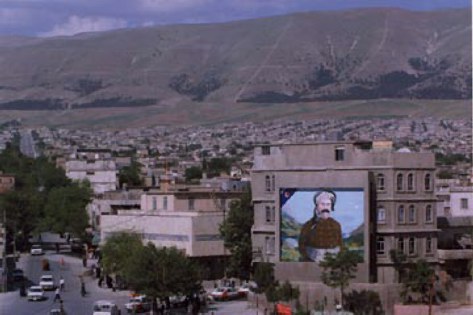 City of Sulaymaniy :
Sheik Mahmud
: The Kurdish leader who resisted the occupation
and bombardment of Kurdistan after WW1 by British Air Forces
Kurds are a peaceful nation and want to live peacefully with their neighbors on this beautiful planet. UN and international communities should realize what has happened to Kurds in Iraq or what has been happening to Kurdish nation in other parts of occupied Kurdistan, and who the Kurds are?. They should never let Saddam's regime or any other regime that would take over Iraqi government after Saddam is gone go back to Kurdistan and would repeat the same atrocities against the peaceful and innocent people of Kurdistan.
Kurds do not dislike Arabs as a people, but they hate what their governments or regimes tell them and direct them to do against Kurds. A simple example for this is when Iraqi army was defeated in the Gulf War in 1991, all the Iraqi soldiers, an estimated of sixty thousands were captured and locked out in Kurdistan without Saddam's protection, but Kurds did not take any revenge against them and gave them foods, places to rest and protection until Kurds had let them go back to their families in the south.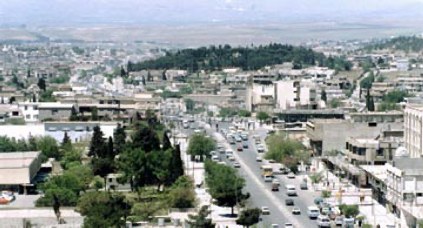 Rizgary District : a neighborhood in Sulaymaniy city.
City of Sulaymaniy's population is estimated around over a million.
Arabs in Iraq are tired of the long battles with Kurds. Only the hard-headed nationalists forcefully insist to annex Kurdistan to Arab land and brainwash their people to follow their unsuccessful steps.But this has not come into reality through centuries of occupations.
Arabs claim Palestine belongs to Arabs and Jews should leave. In the meantime, they do not admit that themselves have occupied Kurdistan which belongs to Kurds and they should not stay there.
If an Arab person, for example, and a Kurd stand face to face and try to communicate, they will never understand each other . Even a simple sentence cannot be understood between them.
All these are proofs that Kurds are a unique nation and want to live on their own without being ruled by another nation. Kurds want to keep friendships with other nations instead of bitterness and unfriendly circumstances.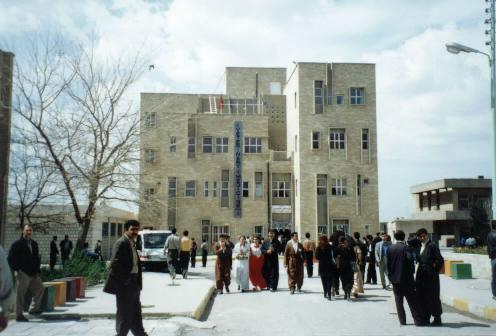 Zankoy Sulaymaniy : University of Sulaymaniy, a section of the campus that shows
the building of the Literature College. Photo taken in 2000
University of Sulaymaniy was established in 1968. By 1981 it offered studies from Kurdish language literature to Medicine. In 1981, Saddam's regime had shut down the entire university and moved it to Arbil " Hawler" city, another Kurdish town near Mousel, in an attempt to diminish Kurdish intellectual activities and handicap their progress. Iraqi government changed its name to Salahadeen University. Saddam's first intention was to remove the educational institute from Kurdistan and deprive Kurds from higher educations.
The proposed relocation was" Tikret " or " Salahadeen" city in north Baghdad. But this would have eliminated Arab students in Kurdistan. Whatever calculations were made had backfired, especially when people in Arbil realized that having a university in their city had improved the way people would think intellectually and its impact on new generation.
Hawler ( Arbil ) city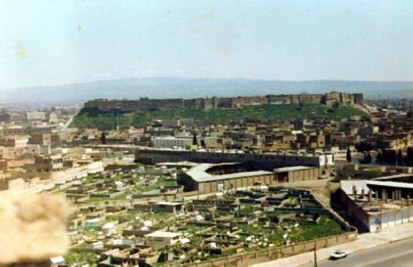 Arbil : Where it shows the ancient and historic castle
I myself have witnessed such changes when I have finished my last year of university in Hawler in 1982. There were two student uprisings during that year. One for bad treatment of students by Arab nationalist instructors and Baath's security forces, the other one was during the New Roz's Kurdish New Year in March 21, 1982. Two students got killed and many got wounded.
After the Kurdish uprising in 1991 and protection of Kurdistan " north Iraq" by UN and no-fly zone by allied forces ( especially the US and Britain ), the Kurdish regional government reopened the University of Sulaymaniy in 1992. Now its student population has grown and most of the field majors are offered.
Now there are three universities in Kurdistan, one in Sulaymaniy, one in Hawler, and the other is in Dihok.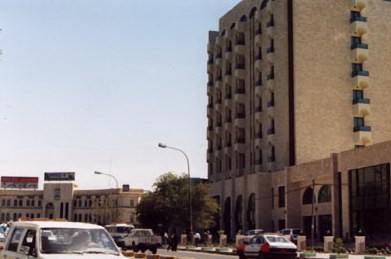 The newly renovated Sulaymaniy's Palace Hotel, taken August 2001
Please view any link below which belongs to this page or click the forward arrow: