Tawella
Kurdo - August 1977
This is part of a beautifully located small town of Tawella in Hawraman region, east of Sulaymaniy, where all the original homes of more than twenty five thousand Kurds "Hawrami" were still standing. Life there had been going on for centuries.
Two years after taking this photo, Iraqi regime's army started depopulating, deporting its whole population and spreading and assimilating them all over Iraq. To accomplish their savage action, Iraqi regime had also destroyed their town completely home by home.
Iraqi barbaric troops then burned and destroyed schools, mosques, and their orchards. The majority who could not afford to live independently were forcefully settled in guarded concentration camps far away from their ancestral town.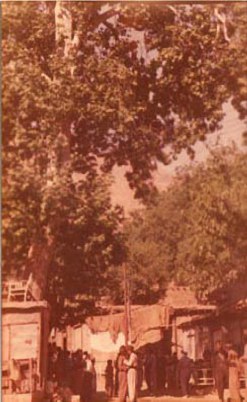 Postcard : Peaceful time inTawella
Here is the peaceful time of Tawella in the Hawraman region where people were going about their normal life in one of its market . Tawella people or " Hawrami " have been known for their talent and skills through centuries in their daily lives.
They have constructed field steps on their steep mountains and managed to plant varieties of fruits such as walnut, figs, grapes, and other kinds of summer and winter fruits. They are also famous for making woolen blankets, and white threaded-shoes for men which is called Klash.
In general, Hawramis are real business-minded, most of their students are successful and get carriers in highly skilled fields such as engineering and medicine. Unfortunately, by one dirty decision of Iraqi government, their entire town of centuries and their rooted life destroyed.
Dictator Saddam had spreaded their people in concentration camps like Hitler and even deported many of them to the deserts in south Iraq.